Welcome to my new weekly report, Park's Progress Report, that we hope you will find informative about the goings on about my campaign. Every week we will update you on endorsements, fundraising, positions on issues of importance to the community and, on occasion, the fun stuff we're doing in the community. There is so much going on in our incredible community every day, and a host of issues that need to be addressed as we approach the end of 2022 and prepare for the new year. We look forward to your continued support!
What An Extraordinary Week We Had – Democratic Leaders Throw Support to Traci
There is no doubt we had an extraordinary primary election season. Never having run for office before, it was an uphill climb for Traci to meet and talk with voters and neighbors throughout the sprawling 11th Council District. Traci earned the endorsements of dozens of community and neighborhood leaders and elected officials. But the general election campaign has started off with a bang. This past week the Traci Park campaign has received a plethora of endorsements.
Starting off the week, former Los Angeles Mayor Antonio Villaraigosa announced his support for Traci with a video that captures the essence of why she is running for office. In his endorsement, Villaraigosa said, "I know the 11th District, having lived in Venice, and I am confident Traci will take on today's challenges we face with homelessness and public safety. Traci will put people over politics."
Just a day later, State Treasurer Fiona Ma announced her support for Traci, calling her "the right person for the job", adding, "Traci's campaign is built on bringing more responsiveness and accountability to City Hall, a mandate from residents that she has shown the ability to deliver on."
As the week progressed additional endorsements followed. On Wednesday Los Angeles Community College Board Member Andra Huffman and Board President Gabriel Buelna announced their support for Traci, calling her "a champion for our community, and for children at every level of the education system."
And then on Friday, LA City Controller Ron Galperin expressed his support for Traci, culminating an impressive week of endorsements. As he announced his support, Controller Galperin said, "Traci is a fighter and a consensus builder, two skills that will serve her well as she works with the new mayor and City Council to take on the extraordinary challenges that LA faces today."
Traci Applauds City Council Action on Encampments
From the beginning, Traci has been clear about her position on homeless encampments. She has consistently called for ending encampments, stating on her campaign website, "we must get unhoused people off the streets for their safety and for public safety." Calling it a top priority, Traci intends to end the inhumanity of encampment living.
When the City Council took on the issue of banning homeless encampments within 500 feet of a school a little over a week ago, Traci issued a statement saying, in part, "The City Council's overwhelming common-sense decision is the right step toward keeping children, teachers, and parents safe. Sadly, school safety and security are on every parent's mind. The sensible measures approved by the City Council are supported by parents and school staff who have raised concerns regarding erratic or violent behavior observed on or near campuses."
Earlier this week when the Council adopted the encampment ordinance, known as Municipal Code 41.18, Traci applauded the Council's decision, saying the Council "chose to stand with children, families and school staff, an action I wholeheartedly support."
Campaign Momentum Continues to Build
In a strong sign that the campaign continues to build momentum at just the right time, the Park campaign announced it has raised more than $153,000 in 23 days during the month of July, far outraising her opponent. Park raised the most money of any City Council candidate and was bested only by mayoral candidate Karen Bass. During the primary, Park received donations from over 1,100 donors.
"From the outset, this campaign has been about restoring sensible solutions to fix what is broken so that families and businesses thrive, and neighborhoods can once again be clean, safe, and vibrant. That is why moms and dads, community leaders and elected officials are supporting what we are advocating for. It is humbling to have the support of so many."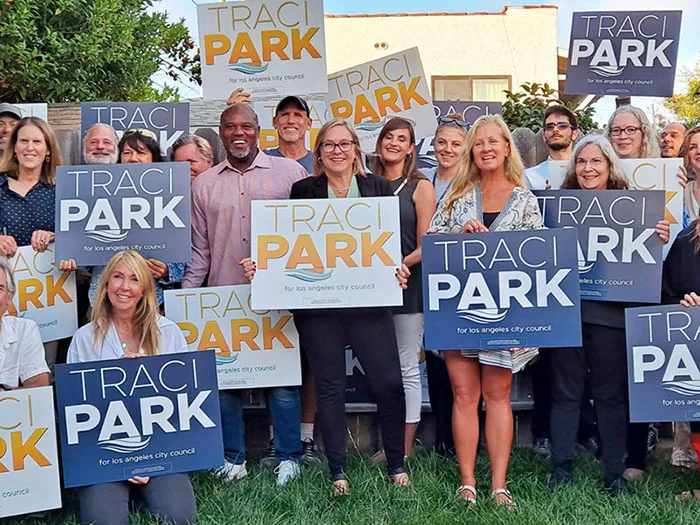 Would you consider making a donation to my campaign so we can finish the quarter with the momentum we need to get our message out to voters across the district?