The Traci Park campaign continues to pick up steam this week, bolstered by the announcement of Lieutenant Governor Eleni Kounalakis' endorsement! Traci has added the endorsement of California's highest-ranking woman to a large list of the state's biggest names, like former Mayor of LA, Antonio Villaraigosa, State Treasurer Fiona Ma, and LA City Controller Ron Galperin.
"We need women leaders like Traci Park to help move Los Angeles, and California, in the right direction." Said Lt. Governor Kounalakis, "She is a proven problem solver who will be able to take action on issues like climate change and addressing homelessness. I'm proud to endorse Traci Park for Los Angeles City Council."
Traci had the following to say about Kounalakis' endorsement,
"It is an honor to receive the endorsement from California's highest-ranking woman, Lieutenant Governor Eleni Kounalakis. She is a trailblazer for women everywhere and I look forward to working in partnership with her to address the many issues confronting women and communities in Los Angeles, and across the state."
Also this week, Traci added the endorsements of the Los Angeles County Lifeguard Association, California Highway Patrol, and the Los Angeles Association of Deputy District Attorneys to her ever-growing list of supporters. Traci is proud to stand with public safety. She has never wavered in her commitment to them, and she commends the work of all these organizations and our brave first responders.
Traci had a great time supporting residents and community leaders at the annual Jungle Cleanup in Playa del Rey.
Traci also enjoyed spending time at the Venice Library open house. It was nice to see the Library open and thriving. She understands how important it is for these community resources to be safe and accessible for kids, seniors, and families.
Traci Park has been committed to saving Westchester Park from day one of her campaign. She was honored to stand with Westchester residents at their rally to ensure the park remains a safe and accessible for everyone. #ParkForParks!
Traci had a great morning taking care of our beautiful beach with the Venice Surfing Association and Heal The Bay. We greatly appreciate the work that these groups do to care for our beaches.
Traci was honored to participate in the Milken Community School candidate forum for CD5 and CD11. She did an outstanding job at the debate, focusing on her full commitment to public safety and 41.18 enforcement to keep our schools, daycares, libraries and parks safe for all.
Traci was honored to celebrate 25 years of art, history, and culture at the Getty Center over the weekend. From academic research to conservation and philanthropy, CD11 is lucky to have such a world-renowned institute call our part of Los Angeles home.
From drug and alcohol rehab, shelter for victims of abuse and kids aging out of foster care, clothing and food banks, human trafficking rescue, educational and employment services, Traci's friends at Dream Center LA are improving the lives of Angelenos in need every day. We wish to extend a warm thank you to Clint Carlton, Pastor Matthew, and the entire DreamCenter for allowing Traci to spend time at their incredible facility.
Traci Park at Dream Center LA
Traci Park Participates in the Mar Vista Community Council Candidate Forum
Thank you to everyone who took the time to fill out our community survey! We were positively overwhelmed with the number of responses we received. As promised in last week's Progress Report, here are the results that we wish to share with you.
We asked the community what their biggest concerns were, with Homelessness accounting for a majority of all answers, followed by Crime and Safety. A number of constituents wrote about their concerns, and what they felt were the biggest issues facing CD11.
"Public Health: Massive amounts of human excrement is being dumped in out storm drains, streets & hillsides. This is 3rd world public health. The bioaerosols & fungal spores make people sick. It all eventually goes to the ocean."
"As previous leadership has tried to solve the national homeless crises their policies have simply made it worse taking on the burden of other municipalities. Since we have funded HHH the population has ballooned in LA county not receded. This existing leadership disregards the wants of longstanding tax paying citizens in favor of unkempt sidewalks and surging crime. These policies negatively impact a communities ability to thrive and provide for its denizens. People with means are leaving."
"Mike Bonin's idea of putting homeless at our local beaches got everyone's attention and was a great "unifying moment". Regardless of political affiliation people all felt the same way: BAD IDEA – what is he thinking??? Erin Darling is the only candidate in the run-off that Bonin endorsed. Play up that factor in your campaign. No one I know wants more of Mike Bonin and his bone head ideas! YOU GOT THIS TRACI!!!!"
"I am a 15+ year prosecutor with the LA County District Attorney's Office and have lived in Venice for over 20 years. My family has roots in Venice dating back to almost 100 years. I am intimately familiar with the state of crime in our community from a personal perspective (my car has been stolen/broken into more times than I can count, I was assaulted one block from my home while walking my dog, I have called 911 several times due to assaults or threats made to me while near my home). I am also a seasoned criminal prosecutor and understand that there is a lot of misunderstanding, ignorance in our community related to crime. Many neighbors do not understand that most criminals are receiving almost no punishment for serious and violent crimes, mostly b/c the DA's office refuses to prosecute per the law. Many of the problems in Venice are a result of these types of policies. Our city leaders have endorsed these policies as well and share the blame. We need new/real leaders!"
"We need to stop politicizing the homelessness & community development issues. People who want a safe, ecologically sustainable, development-regulated community aren't necessarily NIMBYs, and people who want humane services for the homeless and answers to our severe housing shortage aren't necessarily community-destroying radicals. The only things helped by this polarization are political campaigns."
"I'm originally from Chicago and Mayor Dailey Jr. did the clean up and beautification of that city and it paid off with more tourist, more conventions and happier citizens. LA can do the same citywide! Start with Lincoln Blvd. It's tourist's first and last impression as they come and go from our city. Let's have them have the best impression. Sepulveda looks great now do it to Lincoln and the whole westside. Tourists come to LA for our beaches and the beach communities – lets fix it up and make it a world class city"
Consider Volunteering For Our Campaign
We are just 17 days away from mail ballots being sent out and 46 days away from Election Day! We need all your help for this final push to talk with voters and ensure they know that Traci Park is their clear choice for this race. Please sign up today: https://forms.gle/UvnXGJAzcurMRknN7
Critical Fundraising Deadline is TOMORROW, September 24.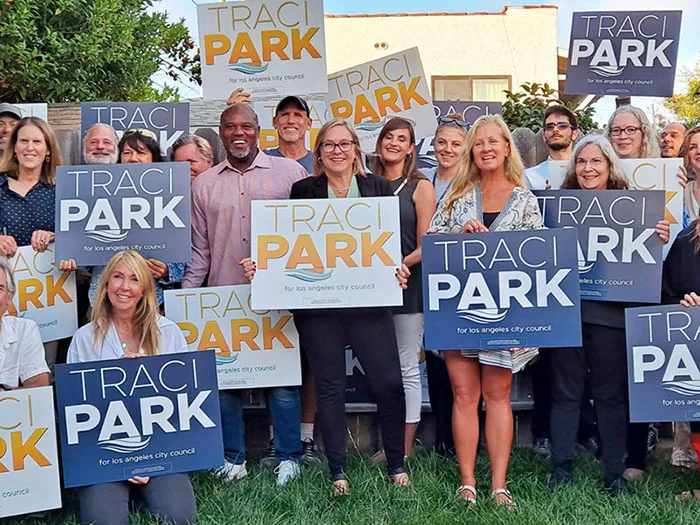 The 2022 General Election is fast approaching, and we need all of the support we can get as we move into the final stretch of our campaign. The deadline for all fundraising is TOMORROW, September 24th, and we'd appreciate it if you would consider supporting our mission. Every penny raised goes directly into our Get Out The Vote effort. And in this election, every vote matters. Can you pitch in to send a message to City Hall that CD11 is ready for change?