This week, Traci was on the move, working with, and meeting members the community. The first stop was at the famed Cow's End Coffeehouse in Venice, where residents came out to hear Traci's plans for the district, and to get some one on one time with the candidate in a fantastic Town Hall event!
Traci enjoyed meeting all of those who stopped by to have a conversation. Understanding the needs and concerns of CD11's residents is always a top priority in our movement, and we're thankful to all of those who came out to join Traci in this campaign.
Shortly thereafter, Traci joined forces with the "Cleanup Westchester Group" a grass/trash roots group of the Westchester Community neighbors, who gather monthly to make Westchester a cleaner place to live! Unfortunately, residents of Los Angeles communities like Westchester have had to deal with mounting trash from encampments, and growing sanitary concerns in their local, public spaces. Traci strongly stands with the community-based efforts like Cleanup Westchester that residents have undertaken to better their communities for everyone.
The sanitary issues plaguing our communities continue to swell with the temperature, with Westchester residents heading to local Cooling Centers in order to beat the heat. However, as the Westside Current reported on Thursday, seniors have had especially hard times accessing these centers due to the trash and unsanitary conditions around these facilities. Traci Park's statement on the matter is as follows:
"The situation with the cooling center at the Westchester Senior Center is beyond unacceptable. It puts lives at risk, as seniors are particularly vulnerable to extreme weather like this week's heat wave. As a candidate, for well over a year, I have been actively engaged on issues around the park and fighting to clean it up. I've personally witnessed the highly concerning behavior and conditions the Council Office has allowed to persist there. None of it is okay.
When elected, I will focus on the inhumanity of encampment living with the urgency this problem demands. We must get people off the streets, for the health and safety of the entire community. This is not an unsolvable problem, it is a matter of resolve and leadership. I will take swift action to get the unhoused into safe settings and restore the full use and enjoyment of our parks, libraries, and recreation spaces to their intended public uses."
Traci Park Visits VA Housing Development in Brentwood
Recently, Traci stopped by the Department of Veteran's Affairs' West Los Angeles Medical Center to hear about their plans to develop housing and end veteran homelessness. "Master Plan 2022" calls for the development of over 1,000 housing units for homeless veterans within the next five years, with hundreds of additional units to be constructed in the following years. Traci had the following to say about the project:
"Those who have served our country should never live on the streets without adequate support, resources, and healthcare. I was honored to visit the VA and tour the incredible new housing being built for the brave people who served in our military. It will be my privilege to carry this work forward when I am elected."
Traci has made ending homelessness a top priority of her campaign. To read more about Traci's plans to combat homelessness and ensure public safety, visit https://tracipark.com or download Traci's At-A-Glance Plan PDF with the button below.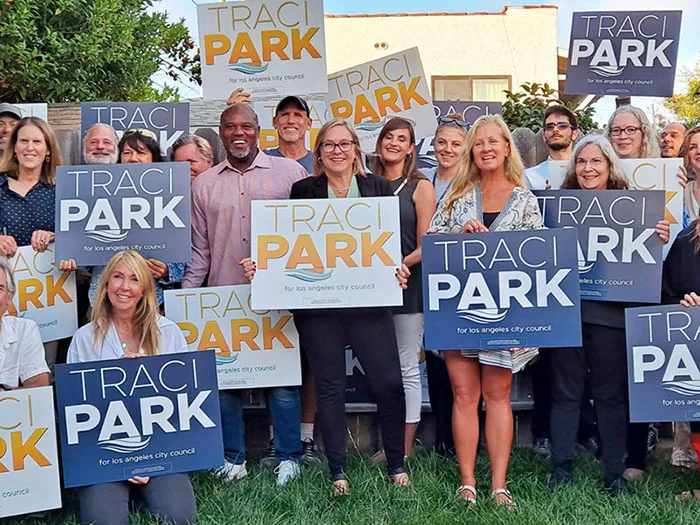 Would you consider making a donation to my campaign so we can finish the quarter with the momentum we need to get our message out to voters across the district?