This week saw the 21st anniversary of the September 11th attacks. Traci was honored to commemorate the event with a visit to the Frank Hotchkin Memorial Training Center to pay her respects to those who paid the ultimate price in the line of duty. Traci is a stalwart supporter of first responders, and is proud to have the support of the brave members of the UFLAC, LAPPL, LAAPOA, and many more. For the occasion, Traci made the following statement:
"On this day of remembrance, we recall the lives and legacies lost and the brave heroes who sacrificed themselves for others. Thank you to all who serve in Los Angeles and beyond."
The courage and strength displayed by our first responders should always be celebrated and remembered, and the Traci Park campaign is taking this week to shine a light on the hard working men and women who better our communities with their service.
Powerful New Endorsements from LA's Finest!
This week, Traci added to an ever-growing list of major endorsements. Joining the chorus of support for Traci are LiUNA! Local 300, the LAX Coastal Chamber, Former First Lady of Los Angeles Michelle Hahn, and a string of local firefighter unions that include: United Firefighters of Los Angeles City Local 112, CA Professional Firefighters, Los Angeles County Firefighters Local 1014, Santa Monica Firefighters Local 1109, Culver City Firefighters Local 1927, and El Segundo Firefighters!
Our Commitment to Section 41:18 Enforcement
Traci's top priority has always been to ensure the safety of our children and the communities we live in. That is why this campaign is renewing our commitment to enforcing Section 41:18. This week, we released a video of the reality facing our communities, illustrating the importance of this law. Traci is the only candidate in this race who supports a safe school perimeter. Protecting kids and schools will always be her top priority. Check out our latest video demonstrating why this issue is so important.
Traci Park Spends An Hour on Slow Talk with Dov Rudnick
Traci is very thankful to local filmmaker Aron "Dov" Rudnick for this long-form interview where he offered a platform to delve into the issues that are so important to our district, while giving a chance to tell her personal story. Let us know what you think! You can watch it on his channel, Slow Talk with Talk Dov Rudnick, here: https://youtu.be/2l2z8zP1KNs
Traci Park Hits The Road!
The Traci Park campaign had an amazing night at the Hollywood Bowl with BOMA's annual event and Duran Duran! Great food, great music, great band!! And in the rain, no less!
We also met some incredible people while door knocking in Mar Vista! They each have a story to tell, and Traci is grateful for the support she's receiving! She even crashed a super fun block party, and made a new four-legged friend!
Traci was honored to attend the WIZO brunch with other elected officials and candidates in Brentwood. The women who contribute to WIZO's important work are here's in our local community and abroad.
The campaign also enjoyed two campaign events this week, with stops in Venice and Playa del Rey!
Important Upcoming Campaign News!
Mar Vista Community Council Candidate Forum
Join Traci over Zoom as she faces Mr. Erin Darling in a candidate forum hosted by the Mar Vista Community Council this Saturday (9/17) starting at 3pm. Use the following link to join the Zoom at 3pm: https://us02web.zoom.us/j/85279065463
Volunteering
We are less than 8 weeks away from Election Day and we need all the help we can get talking to voters! Please fill out our volunteer sign up form if you are interested in getting more involved. We have plenty of opportunities to knock doors, text voters, call voters, provide flyers at farmers' markets, put up yard signs, and many more! Sign up today on our form here so we can ensure that Traci Wins in November: https://forms.gle/uj2FJSrVZ2eKDK9a8
Initial Survey Results
We have been positively overwhelmed with the number of responses we have been receiving to our community survey. Thank you to everyone who has filled it out so far! We will be sharing some of the results and highlights on next week's Progress Report. In the meantime, if you haven't filled it out, please consider it. There's still time to do so at the link here: https://forms.gle/zJmPmaZvRgRqQaPk8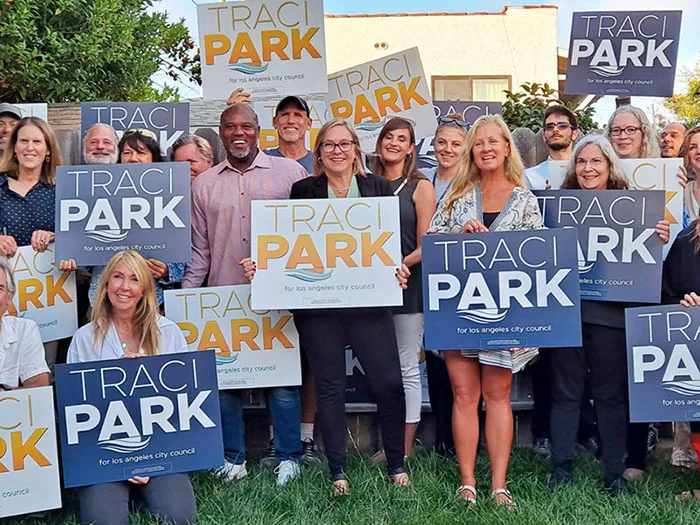 Would you consider making a donation to my campaign so we can finish the quarter with the momentum we need to get our message out to voters across the district?