Just when we thought we couldn't top last week's roll out of significant endorsements – former Mayor Antonio Villaraigosa, City Controller Ron Galperin, State Treasurer Fiona Ma, and LA Community College Trustees Andra Hoffman and Gabriel Buelna, this week we were honored to announce a trio of Los Angeles' most influential labor organizations – IBEW Local 18, SEIU Local 121 Nurses and Healthcare Workers, and the Plumbers, Pipefitters and Welders Local 761. This week's endorsements add to a growing list of labor and community endorsements including the United Firefighters Los Angeles City (UFLAC), L.A. County Firefighters, the L.A. Police Protective League, Association of Los Angeles Deputy Sheriffs (ALADS), and a host of others.
"Frontline Nurses and Licensed Medical Professionals of SEIU 121RN are proud to endorse Traci Park for Los Angeles City Council, District 11," said Astine Suleimanyan, Legislative Coordinator for SEIU 121 RN. "Throughout the pandemic, union healthcare workers have made enormous sacrifices to keep Angelinos safe—often with minimal resources. Now, they need a strong voice in City Hall, and Traci is committed to advocate for nurses. If COVID has taught us anything, it's that Los Angeles needs someone who will stand up for health care workers and their patients. We trust Traci Park will deliver for Los Angeles and its residents."
Calling Traci a champion for working men and women, and someone that will stand with labor to fight for fair wages, better training and healthcare for workers and their families, Gus Corona, Business Manager for IBEW Local 18 said, "After working in partnership, Traci understands what needs to get done to invest in technologies and policies like rooftop solar, clean energy, and leaky pipe replacement to build for our future. We can hardly wait to roll up our sleeves and get to work with Traci."
Added Greg Lewis, Business Manager for the Plumbers, Pipefitters and Welders 761, "Traci has the interests of working men and women at heart, and she recognizes that investing in our built environment means investing in working families and communities. That's why 761 is endorsing Traci's campaign."
"I come from a labor family, and I have immense respect for the working men and women of labor," said council candidate Traci Park. "I'm thrilled to have earned their respective endorsements. Labor is a vital part of the Los Angeles story. Our nurses and healthcare professionals keep us safe, members of the IBEW ensure that the work that needs to be done is performed correctly and our plumbers are an integral part of investing in our built environment. I am proud that they join a growing list of community, neighborhood, and elected officials to stand with my campaign. It is both humbling and a tremendous source of pride for which I am grateful."
Constituents Ask, Traci Answers
A recently published article on CirclingTheNews.com featured Traci Park's answer to a concerned Westchester resident's question regarding accessible spaces for the disabled. The constituent stated to LA city officials, in part,
"I am writing to you in sheer frustration on behalf of my handicapped mother-in-law and other handicapped patrons of Westchester Senior Center and Westchester Library located in CD 11 on the busy Manchester and Lincoln Boulevards and in support of the women and children who wish to use this parking lot for the library or to use the parking lot for children's sports.
Am I wrong to believe that clear safe access to public spaces is a right to all, and not just for the homeless?"
Traci Park responded to these concerns directly, stating,
"The safe parking program at Westchester Park has been under-utilized from the outset, and it makes no sense that RVs are allowed to permanently encamp in other areas of the park, particularly in designated disabled spaces.
These violations should be investigated and subject to immediate corrective action by the City's Disability Department. There are no services on site, and inadequate sanitation to deal with the amount of garbage and belongings amassed in these public spaces. Because of the repeated failures of the Council office to manage the safe parking program or protect the rest of the park from the spillover effects, I am not in favor of the current efforts to take away an additional 162 parking spaces.
When elected, I will immediately begin the process of offering outreach and housing options, and then seek enforcement of 41.18(c)(1), which allows for a 500-foot safe perimeter around our public libraries and parks.
It is not acceptable that disabled people, seniors, children, and families cannot access the library, senior center and other amenities at Westchester Park. As a candidate, for well over a year, I have been actively engaged on issues around the park and fighting to clean it up. I've personally witnessed the highly concerning behavior and conditions the Council Office has allowed to persist there. None of it is okay."
Traci's full statement is available to read here.
Time to Get Busy! Door Knocking Starts for Traci
Please join Traci this weekend as we begin the all-important effort to knock on as many doors as possible as we start our canvassing! Having these direct conversations with voters is going to be critical to ensuring that Traci win this election. Every door knocked is getting Traci one step closer to being our City Councilmember.
Please sign up here to join Team Traci this weekend and moving forward!
Show Your Support
As the election gets closer, we want everyone on the Westside to know that Traci Park is the best choice to represent them in City Hall. Please email Team Traci Field Director Jacob Burman if you would like one (or many) yard signs for you and your neighbors!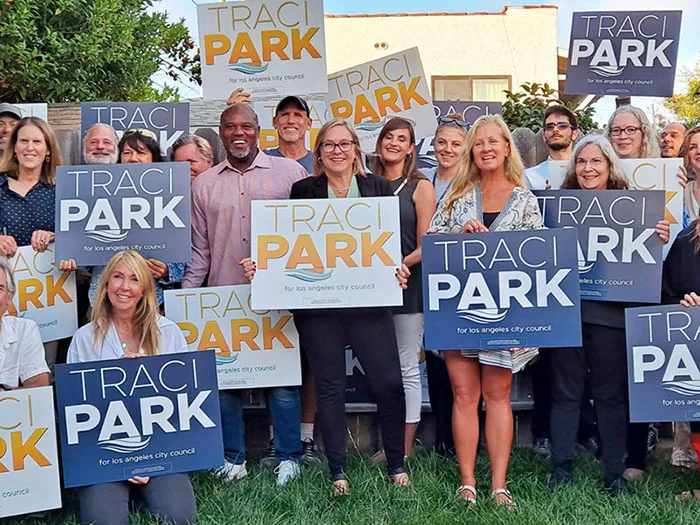 Would you consider making a donation to my campaign so we can finish the quarter with the momentum we need to get our message out to voters across the district?