Your Voice for a new era in Council District 11 and the City of L.A.
On November 8, 2022, Los Angeles voters have an historic opportunity to bring change to a city that has lost its way. It's a testament to the state of things that no one needs to be told what's wrong. We see it everywhere, every day. The question is, will we seize the opportunity to chart a new course forward for the District and City we all love?
My name is Traci Park, and I know the answer is a thunderous Yes! We hear the call for change from Westchester to the Palisades and all points in between. I've listened, and I am running for CD11 to take on our most urgent challenges, from crime and homelessness to sustainability and affordability. I'm running to deliver results for all of us.
I have a bold vision for CD11 and our City. What's more, my team and I already are working to put that vision into innovative solutions and model policies. We will hit the ground running in January 2023.
As a municipal law attorney with more than two decades of experience, I know what it takes to turn ideas into action. And as a native Southern Californian, I'm passionate about our future. With your help we'll usher in a new era and prove L.A.'s best days lie ahead!
Meet Traci
A deep love for Los Angeles is in Traci Park's DNA. Her family has been here for generations. Her stepfather worked for the same school district where her mother served as school union president for over 20 years. Traci's late father, a U.S. Army Veteran, was a lifelong member of Communication Workers of America. Her family taught her the value of hard work, determination, and public service.
Traci has walked that walk her whole life. She got her first job waiting tables at 16 and worked her way through Johns Hopkins University in Baltimore. In college she interned with the Baltimore Public Defender's office and in the International Relations office of the U.S. Coast Guard. After college she came home to L.A. and attended Loyola Law School, where she won Best Advocate and Best Oral Argument in Moot Court. She also worked for an employees' rights law firm.
Traci's legal career has focused on both private and public sector issues. She has advised businesses around California on workplace laws and best practices. She also works shoulder to shoulder with leadership in cities and counties, advising on a range of issues including police body cams and use of force, gender parity in compensation, and public first amendment law. As outside litigation counsel, she has saved taxpayers millions of dollars in legal costs.
Over 20 years, Traci has proven to be a leader and problem-solver. When the COVID-19 pandemic hit, Traci was called into action. She and her team were on the ground, helping cities and businesses navigate a maze of new government regulations and directives, many of which were changing with head-spinning frequency. She led efforts to incorporate dozens of new federal, state, and local guidelines into existing laws. Traci and her team worked under enormous pressure and unprecedented circumstances to put health and safety protocols in place – helping to protect communities, keep Angelenos healthy, and save lives.
Growing up in L.A. often turns people into environmentalists, and Traci is no exception. She wakes up every day grateful to be an Angeleno, surrounded by some of the world's most spectacular natural places. She loves swimming in the Pacific Ocean and hiking in our rugged mountains. Traci will do all she can to halt the loss of our precious and irreplaceable coastal, mountain, and desert environments. She'll also fight to protect our urban and suburban forests.
One more important thing: Traci knows the value of a dollar. She grew up in a hard-working, middle class family and knows from experience what it takes to stay afloat in challenging times. She will make sure that every single taxpayer dollar in the District and City is spent as effectively as possible – she and her team already are developing policies to do it.
Traci's Mission
Do you feel like L.A. City Hall is a thousand miles away? That your elected officials are more concerned with their own political ambitions than your community's needs? That they're more responsive to special interests than to your interests?
Inspired and motivated by her career and life experiences, Traci was the first candidate to jump into the race. While others were talking, she knew it was time for bold action. After two decades representing cities and businesses, she understood the magnitude of the challenges our District and City face.
Traci Park is running for City Council to fix what's broken. She's running because, like everyone in L.A., she's watched the political establishment steer our beloved City into a ditch. Instead of being held to account, they divide and conquer, pitting neighbors against neighbors and communities against communities. Traci is running to heal those divisions.
Traci's campaign was born of her realization that more of the same won't cut it. Our District badly needs a new vision, fresh ideas, and courageous, accountable leadership. Traci is not one of L.A.'s political insiders. Instead, she has broad and deep institutional knowledge of how to make city governments function efficiently and effectively to serve their constituents.
Even before she officially announced, Traci was listening to the community. She spent hundreds of hours meeting with residents, local leaders, business owners, activists, and others. Her platform incorporates the input of constituents all across CD11.
Traci knows how to create solutions based on consensus – it's a big part of what a municipal law attorney does all day. She will collaborate with stakeholders on all sides of the critical issues we face. Starting on Day One she will fight for the changes YOU want – and hold herself and others accountable for delivering results for CD11 and Los Angeles.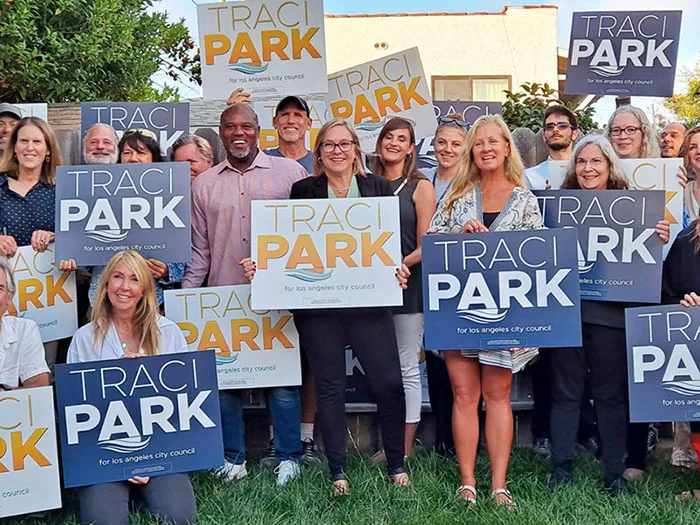 Together, we will renew our vibrant and family-friendly Westside community.